3 star campsite in Dordogne Périgord, welcome to Les Pialades!
In 2023, the campsite will welcome you from April 15th for the rentals and from May 20st for the pitches for tents, caravans and motor homes.
Our 2 gîtes remain open all year round.
Book your holiday with no booking fees for the whole season!
A family campsite for a great holiday in the Dordogne
For a family holiday, you've come to the right place!
On a human scale, far from the road, our small campsite offers a safe environment, allowing the little ones to live in complete freedom.
A real children's paradise, the site has adapted areas and activities for them: outdoor and indoor children's playgrounds, children's entertainment, etc.
A family and friendly atmosphere
"It's like being at home", "we feel like a family", "we feel at home",
these expressions are often used when you talk about your stay at the campsite Les Pialades!
Because we are campers ourselves, we are committed to fostering a family atmosphere and preserving the true campsite spirit.
With us, you are not a number. Each holidaymaker is a new encounter for us, with his or her history, passions and character. Staying at the campsite Les Pialades means loving conviviality, simplicity and good humour; it means sharing unique moments and returning with unforgettable memories.
A family holiday also means being able to spend it with your pet; our campsite accepts animals subject to certain rules.
In the Dordogne Périgord, between Sarlat and Gourdon, the 3-star family campsite Les Pialades is ideally located to discover the wonderful tourist sites of the region. In the heart of a wooded valley, far from noise and pollution, the site offers a 100% natural place to spend a relaxing holiday.

Visit our campsite in a few minutes by bike with a GoPro. Discover our campsite from the air with a drone.
View our videos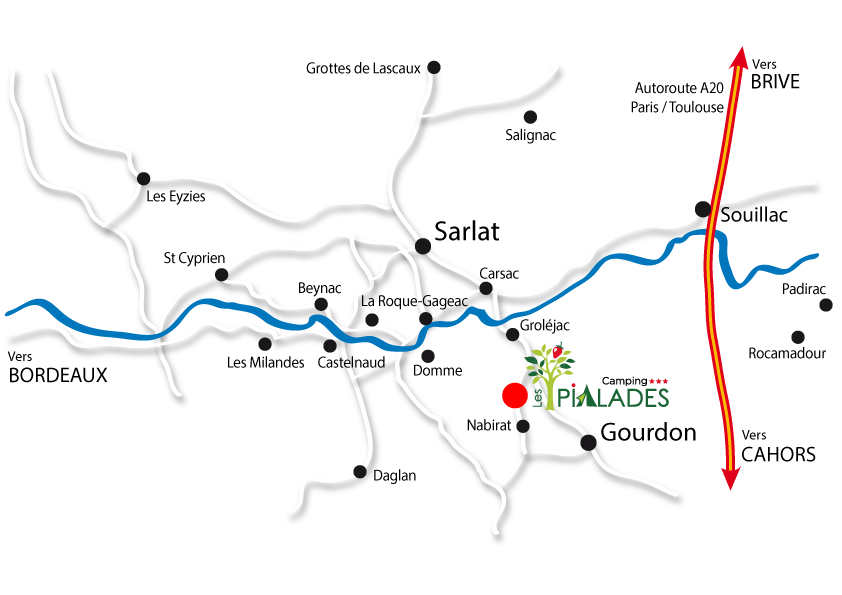 6 good reasons to come on holiday to our campsite near Sarlat
Swimming pool &
Paddling pool
Heated all season
Bar, restaurant
& grocery shop
Open from April to September
Accommodation
for all
For all tastes & budgets, from classic to unusual
Campsite
family
Children's happiness, parents' happiness
Campsite of
natural charm
Large pitches without opposite sides
Ideally
located at
To discover both the Dordogne and the Lot
Have you decided? Your next holiday will take you to the South West of France, in the Dordogne, to campsite Les Pialades?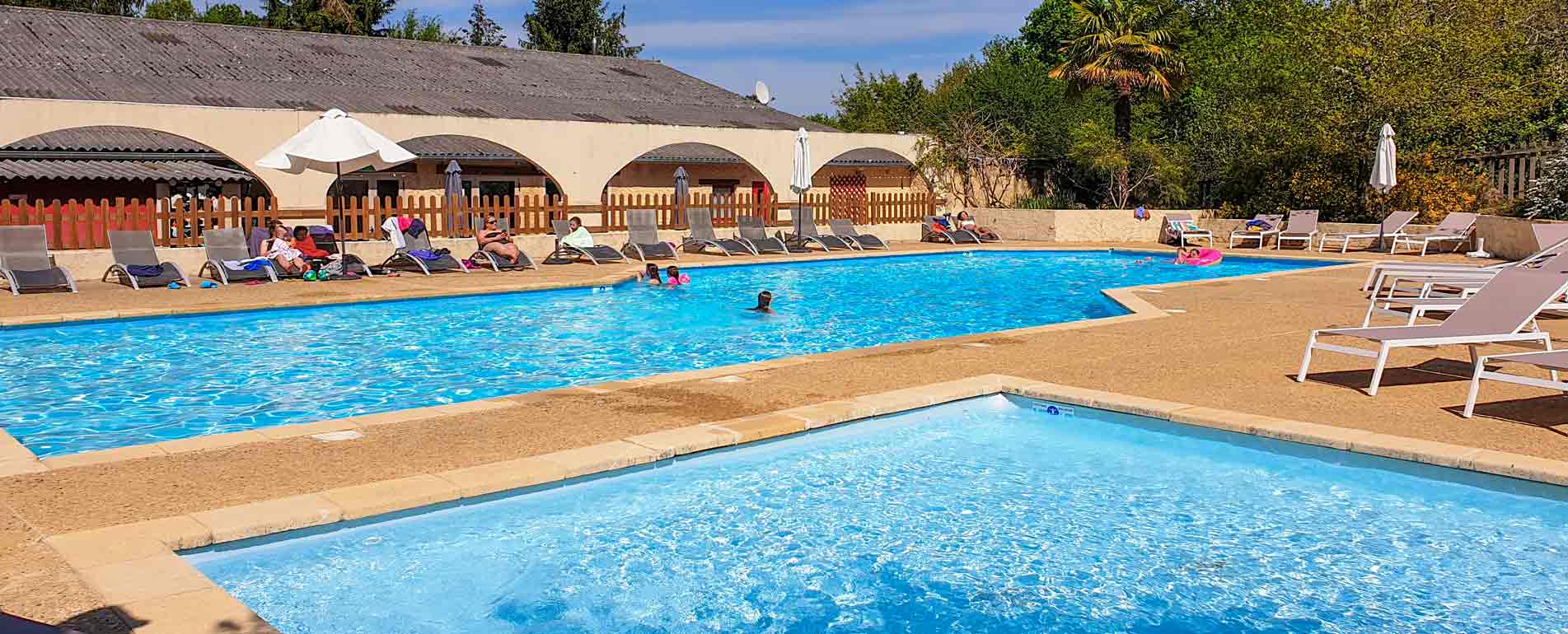 Campsite with swimming pool in Dordogne
What would a campsite be without the inevitable swimming pool where you can enjoy swimming all season long?
Open every day from mid-April to the end of September, our aquatic area with its 20m heated outdoor swimming pool, its heated paddling pool and its large beach with deckchairs, remains one of the favourite places for all our holidaymakers to enjoy a moment of fun and relaxation.
Read more
Rental in our campsite near Sarlat
Les Pialades campsite has 81 pitches, 36 for rentals and 45 for tents, caravans and camper vans, in a wooded park of 2.7 hectares.
Rentals for everyone
For your holiday rental, a wide choice is offered to best suit your needs and budget: mobile homes, chalets, cottages, unless you are tempted by our unusual accommodation, our lodges tents … All with covered terrace, comfortable, our rentals, from 1 to 3 bedrooms, provide you with a complete equipment.
Going in the low season, all advantages!
From April to mid-July and in September, rent when you want, for as long as you want! Short stay, weekend, long stay: you choose your arrival and departure dates and the length of your stay!
Shady campsites
If you prefer to pitch your tent, caravan or motorhome, we prefer spacious, shady campsites with natural hedges.
Our sanitary block has recently been renovated to be more functional, better equipped, more aesthetic and more comfortable.
On site at the campsite
3-star services
Priority to relaxation, you will find many services on the spot, and this all season: bar, restaurant, grocery shop, sale of bread, laundry… A free Wifi zone is at your disposal in our bar/restaurant area, 4G coverage on the whole campsite. You can also recharge your electric car for free.
Read more
Activities for the whole family
Petanque, mini-golf, table tennis, playground with slide… there is no lack of free activities on site. Nearby, you can also go cycling, mountain biking, forest walks, canoeing, fishing, horse riding, climbing… In summer, various entertainment for the whole family contribute to the good atmosphere of our friendly campsite.
The ideal campsite for all occasions
Do you want to organise a cousin party, a birthday party or a group trip with your association or club? We can provide you with a tailor-made solution for reception of groups.
Need an original gift idea for Christmas, a birthday or retirement? Offer a stay at our campsite in the Dordogne; we offer different packages.
What you can visit in the Dordogne
The campsite, in the Périgord Noir, is the ideal starting point to discover and visit this part of the Périgord, in the south of the Dordogne department. Beautiful villages, castles, caves, gardens, prehistoric sites, natural parks… you will have a large choice of visits to make within 1 hour.
Vou won't miss spending time in Sarlat to admire this magnificent medieval city of Périgord by day and by night. Then you will discover the Dordogne Valley with its castles, its most beautiful villages of France: Domme, La Roque Gageac, Beynac, Castelnaud-la-Chapelle, Belvès…
The Vézère Valley deserves more than a diversion. From Eyzies to Montignac, it will lead you to the Lascaux caves, passing through many exceptional prehistoric sites, 15 of which are listed as World Heritage Sites by UNESCO.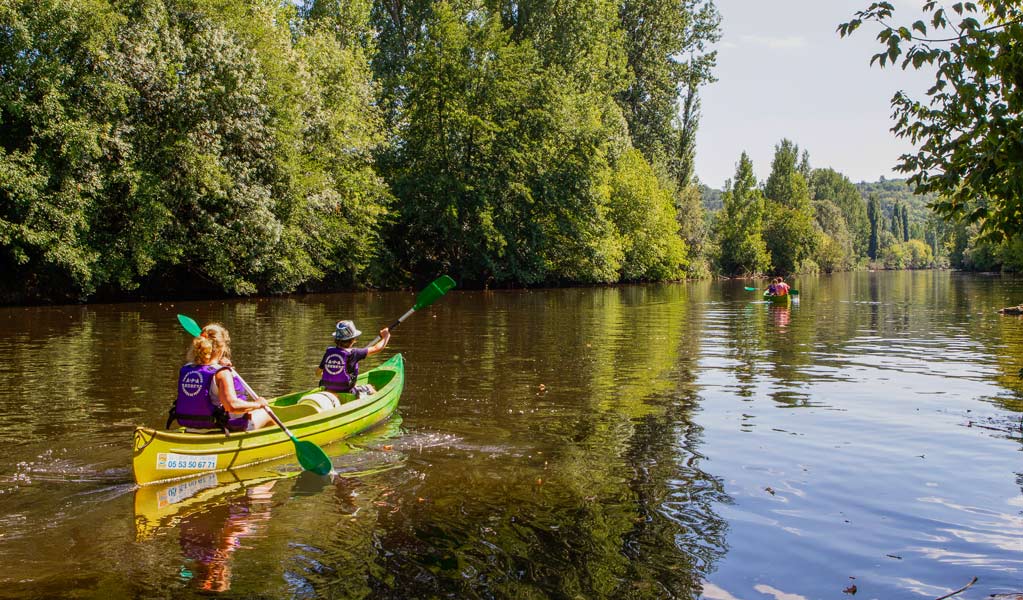 Activities for all tastes
Near the campsite Les Pialades, the Dordogne river will allow you to do various activities: canoeing, swimming, walking, fishing.
Your stay in the Périgord Noir will necessarily include gastronomic breaks as the region has many specialities: foie gras, walnuts, cabécou, wines from the vineyards of Domme and Bergerac…
At the gateway to the Lot, the campsite Les Pialades will enable you to include in your programme of excursions villages and sites such as Rocamadour, Saint Cirq-Lapopie, Cahors, the Gouffre de Padirac, Gourdon…
Your opinion about our campsite in Dordogne near Sarlat
You are the ones who speak best about it. Whether it is in our guestbook or on various review sites, many of you have left us your appreciation.
In the campsite of Pialades all is happiness why go elsewhere. Very warm welcome, unlimited kindness, good food. Always attentive to our needs. Very comfortable chalet with a very relaxing calm.
The campsite is just like its owners: warm, friendly and lively! Our little boy had a great time and we had a good rest. See you next time!
Great welcome from the owners, always available, smiling, good advice… Everything is good, nothing to complain about, don't change anything. You are made for it.
A really natural campsite, calm, an excellent swimming pool, good food, a beautiful region… We will come back and promote you!
Sergio et Jean-Luc de Belgique
What can you say that is negative when the setting, the campsite and the managers are at their best? Not even the possibility to criticize the restaurant! Lovers of greenery, nature, calm and well-being, come quickly.