Camping holidays with your pet
Are you looking for a campsite in the Dordogne that accepts animals ?
Our campsite in the Dordogne welcomes you and your pet whether you are in a tent, caravan, camper van or even a rental!
Rien de plus normal de vouloir passer ses vacances avec votre fidèle compagnon à quatre pattes !
Does your dog or cat accompany you on your campsite holiday between Sarlat and Gourdon?
Many of you share your daily life with a pet. And when the holidays come around, the problem often arises: who will look after your pet? You don't always have a care solution. Or for you, there is no question of spending your holidays without your pet, because it is so much a part of the family!
At campsite Les Pialades in the Dordogne, your pet is welcome! Whether you stay in a mobile home, chalet, gîte, tent, caravan or camper van, you will find a place where your pet will also have a good holiday.
Our 3 star campsite near Sarlat is also 3 star for your pet. Its location in the heart of a forest allows you to go for nice walks around the campsite. You will find many forest paths for your pet to run around on! Your pet will also appreciate our spacious, shady and well-defined pitches for cool and quiet naps. As long as he behaves himself, he can also accompany you to the campsite restaurant.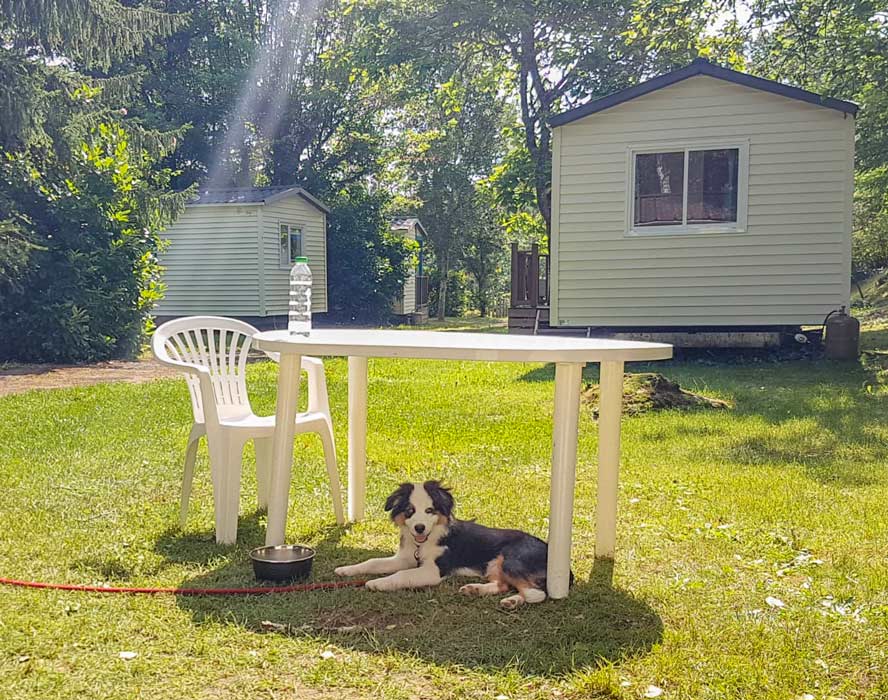 Do you want to do as many visits and activities with your pet as possible?
Our campsite at the crossroads of the Périgord Noir and the Lot is the ideal place to discover the region with your pet. Many tourist sites accept dogs: picturesque towns and villages (Domme, Sarlat, La Roque Gageac, Beynac, Gourdon, Les Eyzies…), castles (Fénelon, Castelnaud, Beynac, Commarque…), gardens (Marqueyssac, Eyrignac, Jardins d'eau de Carsac…), Caves of Domme,…
In the region, you will also find many marked hiking trails, and to refresh yourself, there is nothing like a little swim in the Dordogne river or in the nearby lakes, not forgetting the inevitable descent of the Dordogne by canoe! Finally, if you want to go on an outing where you can't take your dog, let us know: we may have a pet sitting solution.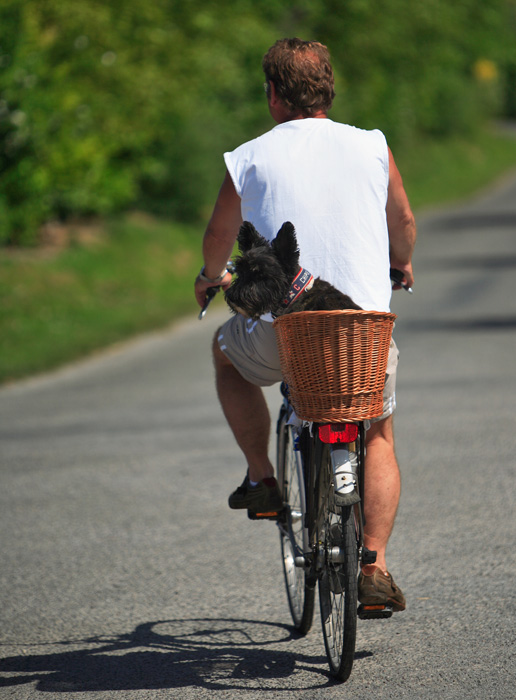 Some recommendations for a good stay at our campsite with your pet
For the well-being and respect of all, we would like to thank you for applying the following rules set up on the campsite for the reception of pets:
By pet we mean mainly dogs, cats, guinea pigs and hamsters. If you have another animal, please consult us. 1st and 2nd category dogs are not allowed. We accept a maximum of 2 pets per pitch or rental. You will have to pay a supplement of 3€ per day per animal (21€ per week).
Your pet must be :
Up to date with vaccinations : presentation of the health booklet is mandatory
Always kept on a lead in the campsite
Do not enter the pool area
Never stay alone on the pitch or in the rental
To relieve yourself outside the campsite; please pick up after yourself
For rental stays, the beds, benches, blankets and duvets are checked. If they have been soiled, damaged or returned full of hair, we will deduct the cost of the damage from your deposit. We advise you to bring their basket or blankets to avoid this kind of problem..
Discover the campsite in group, its entertainment, its restaurant