Our campsites in the Dordogne
Already very popular in the last decade, the campsite market exploded in 2020 in response to the Covid 19 health crisis. This exceptional craze can be explained in particular by the search for safety and freedom that this holiday formula can satisfy. Already very popular with campers, the Dordogne has also attracted new holidaymakers thanks to its wide open spaces, its outdoor activities and its many tourist attractions.
Between Sarlat and Gourdon, the campsite Les Pialades is ideally situated at the crossroads of the Dordogne and the Lot, between Périgord Noir and Quercy. Whether you are just passing through or are looking for a break for several days, our campsites in the Dordogne welcome you from May to the end of September.
Choose the package that suits you!
Opt for the Natural Package
This is the pitch without electricity.
The Natural package is the cheapest solution, the one that is sufficient for campers in total autonomy (solar panels…).
The Naturel package price includes: campsite + pitch + 2 persons.
Enjoy more comfort
The Comfort package gives access to pitches with electricity.
This is the most popular option. Our pitches are equipped with a 10 amp connection.
The Comfort Package includes: campsite + pitch + 2 persons + electricity.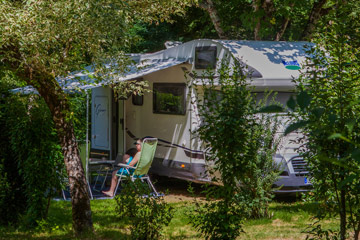 For one night, choose the Passage Package
This is the pitch just for one night, the one that generally meets the expectations of campers who just want to make a stopover, either because they are on a touring holiday in the Dordogne or in the Lot, or because they are making a long journey in several stages.
The Passage Package applies only in low season for one night (arrival after 6pm, departure before 10am), without reservation.
It includes: campsite + pitch + 2 persons + electricity.
3 good reasons to go camping in the Dordogne
Visit the Dordogne by campsite to discover the region differently
The Dordogne is a vast and varied region, rich in landscapes, remarkable sites, charming villages, castles… Discovering it in a campsite allows you to organise an itinerant trip to take advantage of all its tourist attractions from stage to stage.
However, before you set off on your campsite journey in the Dordogne, it is advisable to plan your route, at least in outline. There are so many places to visit in the region that you might be frustrated to leave some of them out for lack of time. That's why it's sometimes a good idea to plan to stay in one place for a few days to explore all that there is to see and do around it.
At Les Pialades campsite, our geographical location attracts both passing campers and those who wish to spend a few days visiting the surrounding area: Domme, Gourdon, Sarlat, La Roque-Gageac…
A holiday of freedom at the rhythm of your desires
To live the experience of a campsite in the Dordogne is also to want to rediscover this feeling of freedom, somewhat frustrated these days with the various confinements and curfews. Everyone can choose their holiday at the last moment according to their wishes, according to the weather, change places as they please, without constraints…
The Dordogne also offers a great deal of freedom. When travelling through the Dordogne in a camper van, you will come across magnificent natural sites: regional parks, preserved reserves, forests, rivers, etc. Camper van drivers also appreciate the region for its wide range of sporting and leisure activities: hiking, cycling, mountain biking, canoeing, kayaking, fishing, etc.
From the campsite Les Pialades, there are forest paths for hikers, joggers, mountain bikers, etc. Nearby, you can take advantage of the cycle paths (green route to Sarlat, cycle route to Gourdon), go fishing in the lakes and ponds of the surrounding villages, canoe down the Dordogne…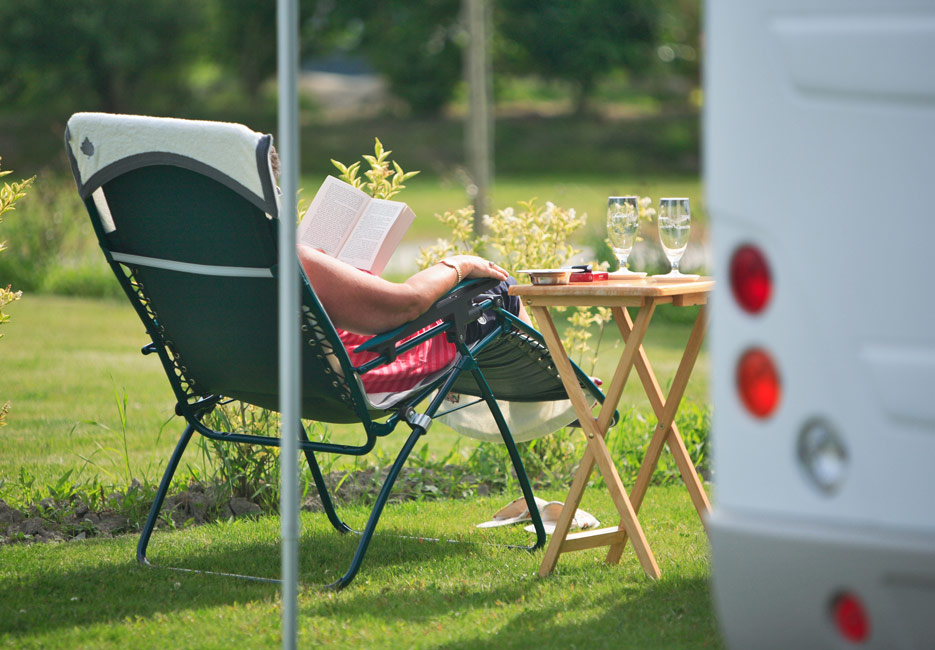 A holiday home of your own for a safe holiday
The campsite is like your home, but mobile. You travel with everything you want, with your own things. Everything, or almost everything! Everything is equipped, everything is already installed! No need to unpack and re-pack at each stage! Everything is ready for cooking, eating, sleeping… And for those who are equipped with sanitary facilities, you are completely autonomous, which may have reassured some during the health crisis.
At the campsite Les Pialades, you will settle down on very spacious pitches, well delimited in the middle of nature. You can also take advantage of all the campsite's facilities and services throughout the season: heated swimming pool, bar-restaurant, grocery shop, bread, laundry, spacious new sanitary block…
Interested in a campsite holiday experience? Then contact us!
The best season to discover the Dordogne by campsite
Thanks to the comfort of campsites, it is possible to travel the roads of the Dordogne all year round. However, if you want to take advantage of a maximum of entertainment, festivities and activities, summer remains the best season. The sun and the heat are there, all the sites are open, all the leisure activities are possible…
Spring, with its longer days, or autumn, with its beautiful Indian summer colours, also promise a great campsite trip. Less crowded, cheaper prices, the low season is recommended for campers looking for peace and quiet and on holiday especially for sightseeing. The majority of the tourist sites in the Périgord and the Lot are open from Easter to All Saints' Day; some are even open all year round.
Our campsites for motorhomes
Although the campsite does not have specific pitches for camper vans, we do offer spacious (150 to 200 m2), flat pitches, ideally delimited by natural hedges to ensure privacy.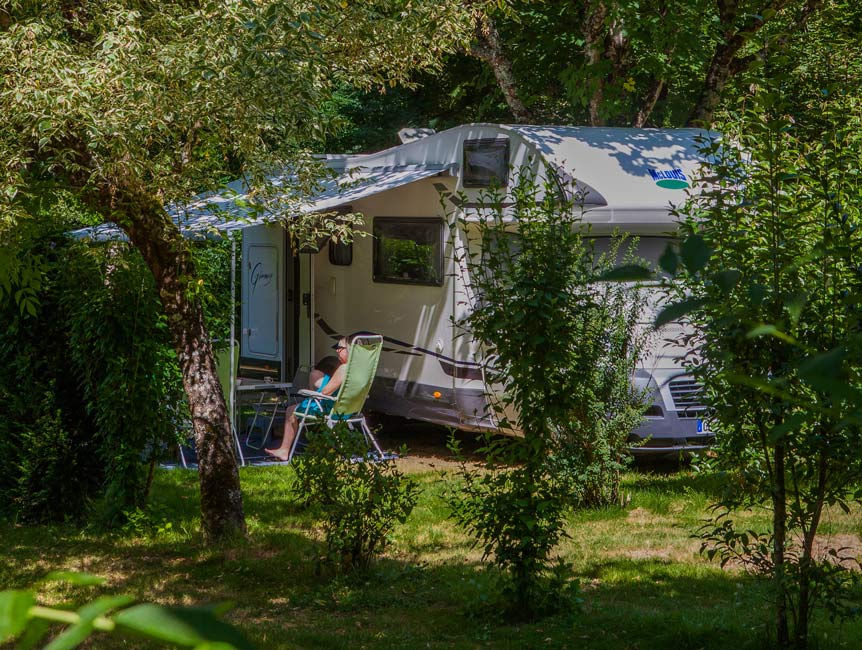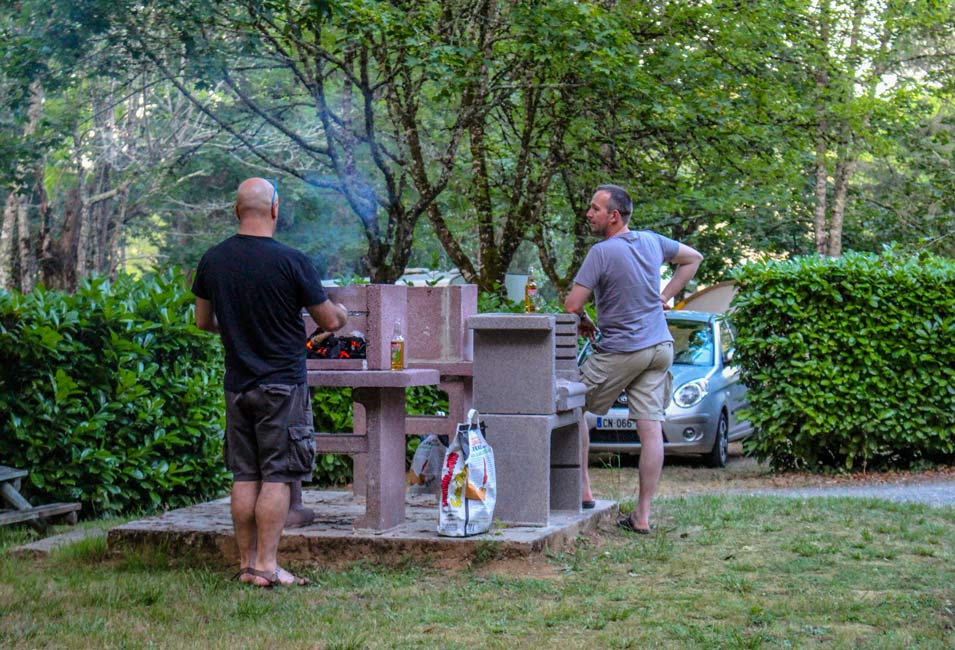 Various facilities for your campsite stay
10A electricity: in accordance with a European directive, our pitches are equipped with new electrical boxes requiring a European plug. So don't forget to bring your own. And if you couldn't bring one, no problem: we sell them in our grocery shop at a very reasonable price!
Water point near the pitches.
Filling the drinking water tank without extra charge.
Drain for toilet box.
Laundry (tumble dryer, washing machine, ironing board), loan of clotheslines, iron, hair dryer…
Collective barbecue islands (loan of grills).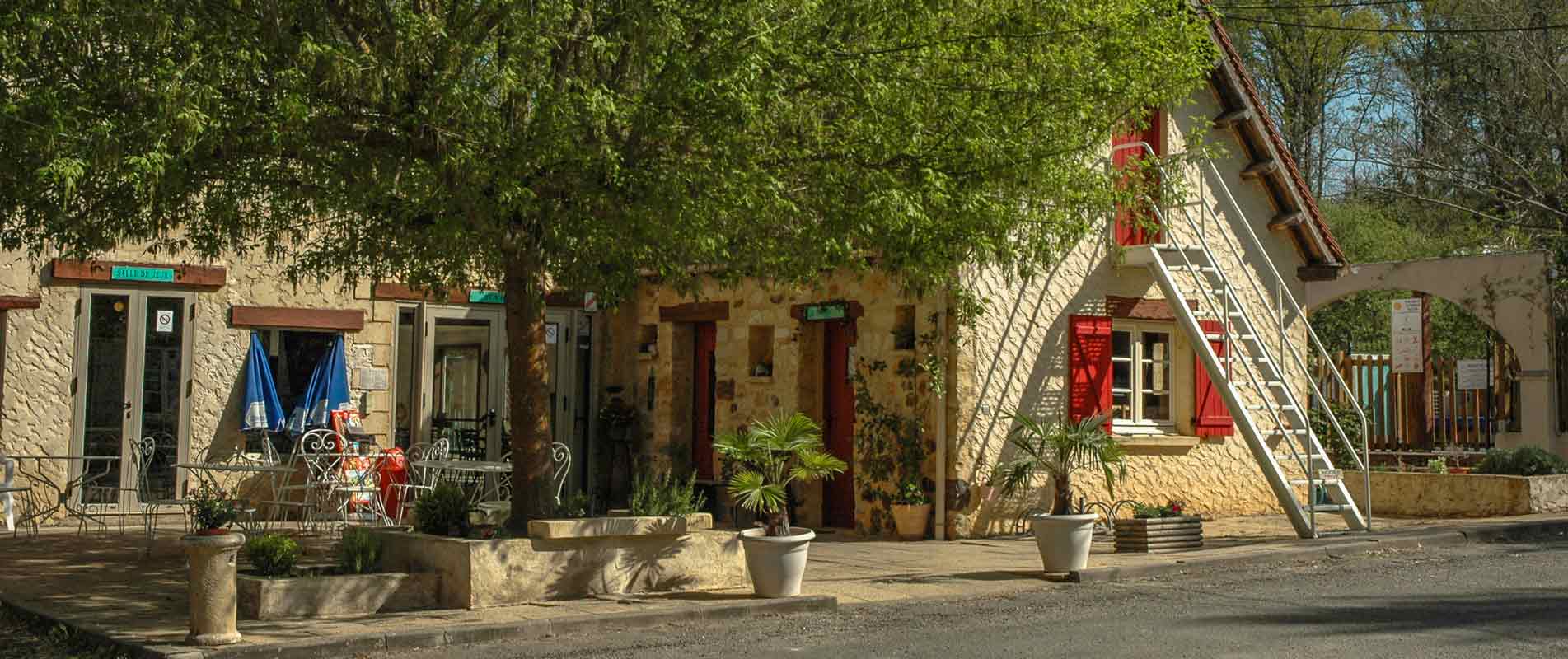 Our services and facilities at your disposal
The campsite's sanitary block: completely renovated, the sanitary block is highly appreciated for its great comfort with its very spacious showers, its children's areas (WC and urinals for the little ones, baby cabin with bathtub and changing table). Another strong point is the adjustable water temperature on all the equipment. Washbasin, WC and urinal cubicles, dish and laundry basins, chemical drainer and a PMR cubicle (for the disabled) complete the space.
Everything you need to eat: if you don't feel like cooking, you'll find what you're looking for either at the campsite restaurant, the take-away counter or the grocery shop…
Free access to all the campsite's equipment, activities and leisure facilities: heated swimming pool and paddling pool, playground, mini-golf, TV lounge, bowling green, table tennis…
Pets (except category 1 and 2 dogs and exotic animals) are accepted at the campsite under certain conditions: up-to-date vaccinations, dogs kept on a lead in the campsite…
We do not charge any booking fees throughout the season. So take advantage of the benefits of booking at no extra cost: guarantee of a pitch, possibility to choose your pitch according to availability at the time of booking…
Have you chosen the formula and the period that suits you best? Book directly or call us on 05 53 28 52 28.
Discover the caravan, pre-equipped and tent pitches