Our tent pitches in Dordogne
In the heart of a wooded valley, far from the road, the crowds and the stress, the campsite Les Pialades is a green setting which surprises by its calm, its gentle way of life and its invitation to rest. Whether for one night, a few days or several weeks, our tent pitches in the Dordogne welcome you in the middle of nature and close to many tourist sites in the Périgord and the Lot. Sit down on one of our shady or semi-shady campsites and enjoy your holiday.
Where should you pitch your tent?
The campsite Les Pialades in the Dordogne is set in 2.7 hectares of parkland and favours space and calm. From 80 to 330 m², our 45 pitches for tents in the Dordogne, some of which are terraced, are all ideally delimited by natural hedges to preserve your privacy. Thanks to its location in the heart of the Domme forest and its varied vegetation, the site is very popular with tent campers for its shaded areas. All our pitches are spacious and have space for your vehicle.
Because you don't all have the same needs, we offer different packages.
NATURAL PACKAGE
This is the pitch without electricity.
The Naturel package is the cheapest solution, the one that is sufficient for campers with small tents who only stay for a few days, do some travelling…
This is also the formula chosen by campers who wish to return to the traditional campsite with the ice cakes, the gas stove… In this case, forget the electric cooler, think of charging your laptops in the car, organize yourself differently…
The price of the Naturel package includes: the pitch + 2 people + 1 car + 1 tent
COMFORT PACKAGE
The Comfort package gives access to pitches with electricity.
This is the most popular formula, the one that allows holidaymakers under canvas to have a little more comfort: possibility to have an electric cooler or even to rent a fridge, to easily recharge their mobile phones, tablets…
Our tent pitches are equipped with a 10 amp connection, but we ask you to limit the use of electrical equipment (plancha, barbecue…) or at least not to use them all at the same time.
The Comfort Package includes the pitch + 2 persons + 1 car + 1 tent + electricity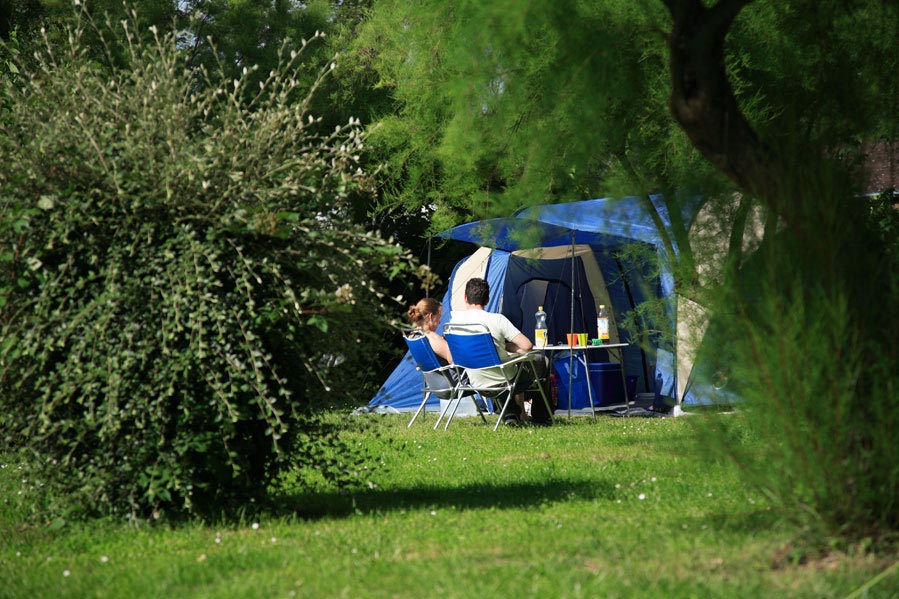 PASSAGE FEE
This is the pitch just for one night, the one that generally meets the expectations of tent campers on an itinerant tour (hikers, cyclists, donkeys…) or just passing through.
The Passage Package applies only in low season for one night (arrival after 6pm, departure before 10am), without reservation.
It includes the pitch + 2 people + 1 car + 1 tent + electricity.
Why camp with a tent?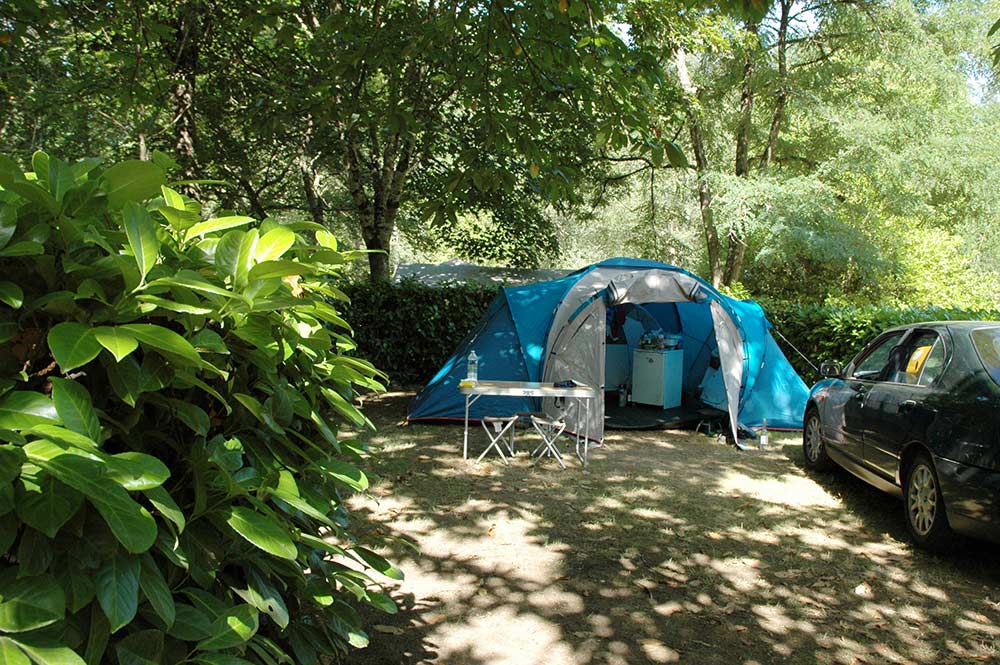 Tent holidays for a different way of life
Tents are still the preferred type of accommodation for campers.
This type of holiday allows you to break away from everyday life, to live differently, more simply, often with the minimum and at a different pace. You forget your own little comforts, you share the dishes with the other campers, you cook differently, you improvise an aperitif with the neighbours…
We are campers ourselves, and this is what we like about our tent holidays.
In a tent, nature becomes your home
The campsite experience is also about getting closer to nature, living outdoors and making the most of the great outdoors. Nature becomes your home for the duration of your holiday.
At Les Pialades campsite, you can pitch your tent on spacious pitches with trees, ideally bordered by natural hedges. And depending on your wishes, there is always a shady or a sunny spot. Sheltered by a wealth of trees, shrubs and flowers, our park offers an exceptional natural setting where many species of birds find refuge all year round. What a pleasure it is to wake up to the sound of birdsong in the morning!
Tent campsite, a great experience for all
Choosing to spend your holidays in a tent means offering your children unforgettable memories. It is a real playground for them and a unique space of freedom where they learn autonomy and responsibility.
Les Pialades campsite is a children's paradise with a large garden where they can move around in complete safety and quickly make friends. What a joy for them to be left free in the campsite, to come alone in the morning to fetch the bread at the grocery shop, to discover the pleasures of living outside, in the middle of nature…
Camping in a tent means enjoying a friendly atmosphere where young and old alike can meet new people and share unique moments, different from those they would experience in other types of accommodation.
GOOD TO KNOW FOR PITCHES WITH ELECTRICITY : following a European directive, our pitches are equipped with new electrical boxes requiring a European plug. Please remember to bring them with you. And if you could not foresee, no problem: we sell them in our grocery shop at a very reasonable price!
THE BEST TIME OF YEAR TO CAMP IN THE DORDOGNE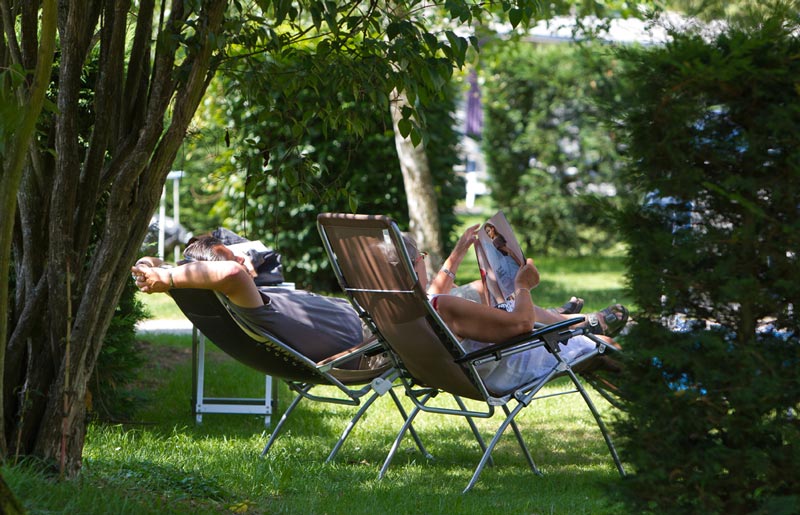 The Dordogne is a great place to pitch a tent. Its natural environment and its climate are appreciated by tent campers. The best time of year is in the summer when the sun and heat are at their best. However, there is rarely a heatwave, as the temperatures drop off well at night. At the campsite Les Pialades in particular, we benefit from a wooded environment which allows us to find shade during the day and to have pleasant temperatures to sleep well and recover at night.
Camping in the Dordogne in spring and September also means taking advantage of the benefits of the low season: fewer people, cheaper… You can spend beautiful days in the peace and quiet of your tent pitch, enjoy the campsite's heated swimming pool, take the time to dine at its restaurant… And of course you can visit the region without the crowds and at advantageous rates.
At Les Pialades campsite, we do not charge any booking fees for the whole season. So book quickly to take advantage of the benefits of booking without extra costs: guaranteed pitch, possibility to choose your pitch within the limits of availability at the time of your booking…
Have you chosen the formula and the period that suits you best?
Book directly
the services that campsite les pialades offers you
At Les Pialades campsite in the Dordogne, we pay particular attention to the comfort and well-being of our tent campers.
Above all, the sanitary block must be a pleasant place to live. This is why it has recently been completely refurbished and is maintained on a daily basis. You will find very spacious showers, washbasin cubicles, toilets and urinals, laundry and dishwashing bins, a chemical drainer, as well as a PMR cubicle (for the disabled) and, for the youngest guests, a children's toilet and a nursery area with a baby bathtub and changing table…
Other services are available to our campers: laundry (tumble dryer, washing machine, ironing board), loan of clothes racks, iron, hair dryer, refrigerator rental, freezing of your ice loaves (free of charge)… Two collective barbecue islands are available for self-service on the campsite. And if you don't feel like cooking, you can find what you need in the campsite restaurant, at the take-away counter or at the grocery shop… Discover our services available all season long.
Would you like to spend your holidays in a tent, but you don't have the equipment? Is it your first time and you don't want to invest in all the equipment this year? Rent one of our fully equipped Espace tents, ready to live in from the moment you arrive.
Discover the pre-equipped pitches, caravan and motorhome