Modern sanitary facilities at our campsite in the Dordogne
Are you pitching your tent? Do you have a caravan? Travelling in a campsite?
Welcome to our campsite in the Dordogne! Our sanitary facilities are clean and modern and we provide our campers with special services.
Sanitary block: cleanliness first!
As campers ourselves, we know how important the sanitary facilities of a campsite are.
That's why we put special emphasis on cleanliness and hygiene by cleaning all areas twice a day.
Newly refurbished sanitary facilities
That is why we have also recently refurbished them to be more functional, more modern and more aesthetic:
With the installation of new boilers and the redesign of the entire plumbing system, we ensure that you have hot water everywhere and at all times. A new feature that is very popular with campers is that the temperature can be adjusted individually.
Children have not been forgotten: a toilet and a urinal are specially designed for them, and a nursery with a bathtub and a changing table makes it easier to wash your baby while camping.
There is a fully adapted PRM cabin with shower, toilet and washbasin for people with reduced mobility; washing up and laundry bins are also adapted for people in wheelchairs.
Caravans and campsites now have a chemical dump.
A laundry area with a washing machine (for a fee), a dryer (for a fee) and an ironing area is also available. We lend clotheslines.
The showers are very large, with a real space protected from the water to put down one's belongings, and allow parents to shower their children easily. Our 4 duo showers are also very appreciated with their washbasin area well separated from the shower.
Not forgetting the embellishment work (tiled floors and ceilings redone, roofing, cabins, etc.) which has given a real facelift!
Finally, we pay particular attention to the number of toilets available so that there is no waiting time.

OUR SPECIAL CAMPAIGNERS SERVICES
Barbecue allowed
Fancy a barbecue? There are two barbecue islands around the campsite which are available to campers. We lend out grills free of charge – deposit 20 €.
Water points
Water requirements: There are numerous water points available to campers throughout the site.
Fridge rental
The cooler doesn't fit in the boot? You can hire a fridge on reservation subject to availability – from 3,00 to 4,50€ per day depending on the period
Ice bread
Bring your ice cream or water bottles to the grocery shop. We keep them in our freezer (free service).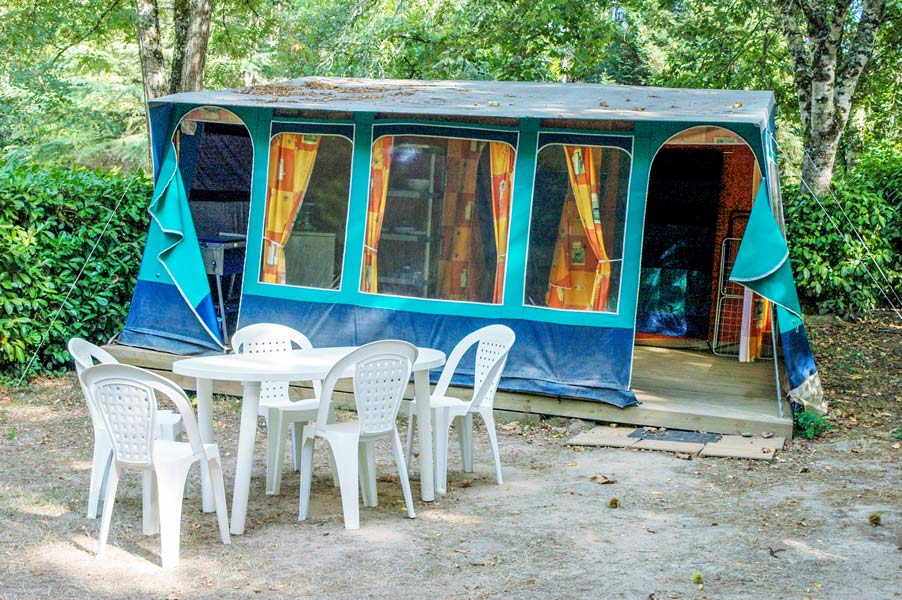 Opt for ready-to-camp
Do you want to sleep under canvas but don't have the equipment? You can rent one of our fully-equipped, high-comfort Espace tents on a wooden floor: no assembly/disassembly, no clutter in the car, for a very economical rental price!
Our Espace tents
Would you like to camp with your own tent but not all the equipment you need to fit in your car? We have the solution with our pre-equipped pitch: covered kitchen with Top fridge, 3 burner gas stove, work surface, storage shelves, garden furniture, parasol, jerry can, toilet, clothes line, broom.
Our pre-equipped pitches
Discover the pitches for campers, caravans and tents