Campsite GOURDON, your holiday between Dordogne and Lot
Staying at a campsite in Gourdon and the surrounding area means you can visit both the Périgord Noir and the Quercy.
Between Sarlat, Gourdon and Domme, the campsite Les Pialades is thus at the crossroads of the Lot and the Dordogne. In a wooded park, we offer you a quiet holiday with a wide choice of visits and activities to do nearby.
Rental in Gourdon in the Lot
With its wide choice of rentals, just ten minutes from Gourdon, the campsite Les Pialades welcomes you from mid-April to the end of September. Depending on your expectations and your budget, you can rent a mobile home, a chalet, a tent lodge, a bungalow, a gîte…
With a covered terrace, these rentals offer you great comfort for a successful holiday in Gourdon. Out of season, the 2 gîtes can still be rented
Discover our rentals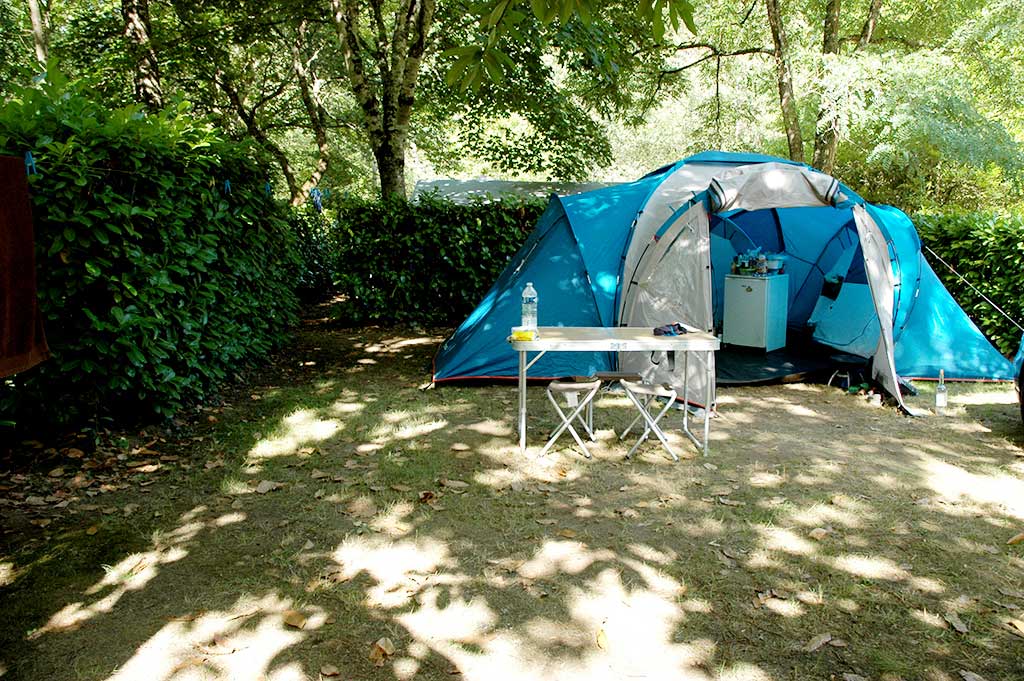 Tent and caravan pitch in Gourdon
In the heart of a wooded valley, the campsite Les Pialades is an ideal natural setting for camping near Gourdon. Tents and caravans can be accommodated on its shady, spacious and well-defined pitches.
Campers particularly appreciate the recently renovated sanitary block. Everything is there for everyone's comfort: large showers with adjustable water, toilets for the little ones, nursery with baby bathtub, cabin adapted for people with reduced mobility, laundry…
Discover our pitches

Swimming pool campsite near Gourdon and many other outdoor activities
Spending your holidays on a campsite means making the most of the open air! That's why at the campsite Les Pialades, outdoor activities are privileged. You will find a beautiful swimming area with a large swimming pool and paddling pool open and heated all season long. You will also appreciate the pool decking where you can sunbathe comfortably on a deckchair.
And that's not all! There is nothing to be bored of at our campsite in the Dordogne. Mini-golf, boules, table tennis, playground, games library, library, billiards, there is no shortage of activities to do on site. In the summer, there is also entertainment for young and old; there is something for all tastes and all ages.
campsite 3 STARS GOURDON
Holidays are for resting, taking time for yourself and breaking away from everyday life and its constraints. At Les Pialades campsite, we understand this! That's why, as soon as we open in April, we are offering you many services.
Don't feel like cooking? Try dinner at the campsite restaurant, where we offer very reasonably priced dishes. Another option for lunch and dinner is the take-away service. And for your breakfast, take advantage of the fresh bread and pastries baked on site.
If you are missing something, you don't need to go out on purpose: our grocery shop will be able to help you out and you will be able to discover quality local products.

Discover Gourdon, classified as one of "Les Plus Beaux Détours de France
10 minutes from the campsite Les Pialades, Gourdon is a place to stay with many tourist attractions.
The tourist office organises various tours: guided tours and themed tours: sensory tours, torchlight tours, rallies… And if you stay here at the beginning of August, you won't want to miss the Médiévales de Gourdon, a festive and original event. Gourdon is also a pleasant town with its markets, shops and gardens…
In the heart of the medieval city
Gourdon, the medieval town, can be appreciated through its narrow and winding streets. You will discover a remarkable architecture and an exceptional heritage. You will see magnificent half-timbered houses, its fortified gate, its Town Hall, a former consular house from the 17th century, and the Maison du Sénéchal, which has become the Centre d'Interprétation de l'Architecture et du Patrimoine (Centre for the Interpretation of Architecture and Heritage). You should not miss the Church of Saint Pierre, which stands out like a real fortress with its two impressive bell towers. Push open the door: in southern Gothic style, it will reveal unique treasures inside.
Gourdon Tourist Office
/
Panorama of the castle esplanade
Built on a mound, the historic heart of Gourdon offers a 360° view of the roofs of the town and the valleys of the Bouriane and Périgord. Situated at an altitude of 284 m, the esplanade of the castle was built on the site of a former castle and ramparts. You can enjoy the panorama around the beautiful earthenware orientation table, but also take a picnic break thanks to the tables and benches provided for this purpose. You can also taste the excellent wines of the Dordogne (Bergerac, Pécharmant…)!
The gardens of Gourdon
A visit to Gourdon also invites you to discover some very different small gardens. The Zig-Zag Gardens recall the spirit of a garden from the time of Charlemagne. You will be greeted by a garden of simple plants, a vegetable garden, a rosarium and a labyrinth in the calade. You will continue to the Jardins du Sénéchal with their show court, embellished by a giant boxwood butterfly surrounded by water jets. A little further on, at the media library, your visit can continue with the Fairy Tale Garden. This contemporary garden is decorated with wicker structures, wooden characters and grass beds.
Activities in Gourdon
Go to the Ecoute s'il Pleut leisure centre. Located 1.5 km from the centre of Gourdon, in the direction of Sarlat, you will find activities for all tastes: swimming, fishing, paddle, lazing around, water park, picnic and barbecue, games for the children. You can also go for a horse (or pony) ride at the Centre Equestre de Roquemeyrine. From the estate, you can take the "Promenade en Bouriane", a cycle route that will take you 10.5 km to Groléjac. If you want to go further, you can take the greenway to Sarlat or Souillac. Finally, hikers will find various routes through the Gourdonnaise countryside.
The surroundings of GOURDON
In the vicinity of Gourdon, you should not miss the small village of Milhac with its castle and its climbing spot for climbers. For flower lovers, the Abbaye Nouvelle de Léobard is the place to be every year in spring for its plant festival. And if you drive a little further, you can visit the Gouffre de Padirac, Rocamadour, Saint-Cirq-Lapopie, Cahors, Sarlat, Domme…
The Caves of Cougnac
You have certainly heard of it. The Lascaux cave is located in the commune of Montignac, north of the town of Sarlat. It was made famous when four young men discovered it on 8 September 1940. In this area, 3 km north of Gourdon, the Cougnac caves are a trip back in time not to be missed. On the same site, you will have the chance to visit two caves, very different from each other. One has exceptional mineral vegetation and offers a fantastic shower of stalactites. The other reveals rare prehistoric paintings dating back more than 25,000 years: ibex, deer, mammoths and human forms.
The House of Piage
The Maison du Piage in Fajoles also invites you to travel back in time to the time of the last Neanderthals and the first Cro-Magnons, 40,000 to 30,000 years before our era. You will meet our ancestors and learn how and what they lived on, the tools they used… Very educational, this visit offers you the reconstitution of an excavation scene and also allows you to discover the work of archaeologists.
Discover all our services, activities and entertainment on site and our welcome for your pets